French dining.
A must in Paris, the old time bistros.
Especially with friends and a bottle of wine.
At Josephine's 'Chez Dumonet's' their souffle is a must as well.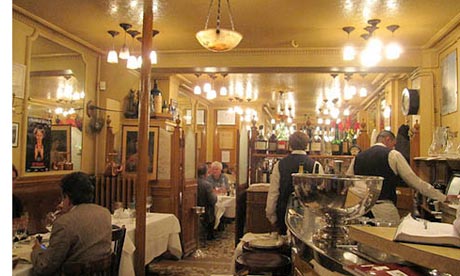 "For a delicious sepia-toned experience of pre-war Paris, this beautiful art-nouveau bistro is on one of my favorite streets in Paris, also a fifteen minute walk from our apartment, is worth the wound to your wallet. The fact is that old-fashioned bistro cooking in Paris has become almost as expensive as it is rare. If you're craving old-school classic French dishes, you won't do better than this 1880 vintage dining room. Note that many dishes are served in half portions, the plates are so ample the half sizes could feed two, and the reasonably priced house Bordeaux is what all the regulars drink."
• 117 rue du Cherche Midi, 6th, +33 1 4548 5240. Métro: Duroc or Sèvres-Babylone. Open Mon-Fri lunch and dinner. Average à la carte €50
Last night Lisa and David and their two beautiful young daughters invited me to meet them for dinner at Chez Dumonet.  
Blogging amazes me. This week I have met Debbie, Wendy, Julie, Miller, Vidas and last night Lisa and her family. 
The same evening John and his partner Josh stayed at our home in the south. I wish I could have been in two places at once. I was sorry to miss them. Do you remember John is the one who invited us to stay in his lovely home in Mexico. The only condition was that we stayed longer than two weeks.
Since Our daughter Chelsea and her boyfriend 'Mr. Espresso, completed their studies, they rented an apartment together. It is literally on the opposite side of Paris from our apartment, but a direct bus takes us there in twenty minutes. At last Chelsea is moving out of her closet apartment into a bigger space.
They are so happy.
And the apartment renovation... it is moving along. Tomorrow I'll give a full report.
Thank you all of you for your constant friendship, support, humor and good ideas!