Yellow is Provence. The facades certainly. The glorious sun, the glistening on the sea, the clink of the Pastis glasses, straw hats, sunflowers, Marseille soap, let's not forget the golden baguette..
And then there is dessert: Pear with chocolate? That isn't Provencal. Well unless you are an American living here shaking up your Franco family with a bit of why not.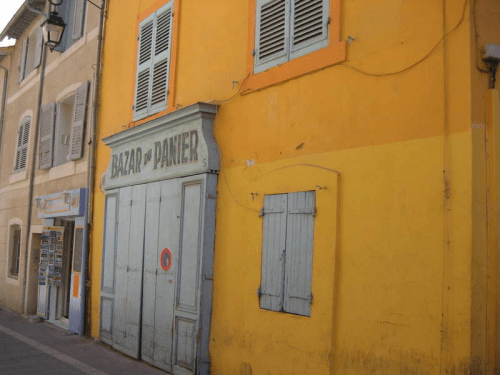 Yellow facades.
Hipped talked about must go when in Marseille for lunch:
Where the cook is the server too.
Talk about atmosphere.
Do you have a good lemonade recipe?
"Two droplets of water, three bubbles and some fruit..."
It is a century old drink, and a great website.
The accent will add to the taste.
Do you wear yellow?
Do you like bumblebees?
They wear yellow with black damn well.
A brocante sign with yellow and black stung me.
Sunflowers always always always remind me of my mother.
accepting the reality of each moment
...not rushing it to be more than it is.
The secret is not stealing the beauty of tomorrow by robbing today.
Yellow is Jaune in French. 
The facade is Jaune.
Maybe pillow talk will help your French.
It has helped mine.
Yellow cannot be denied.
Lemon Pasta? One of my favorites! What is one of your favorite pasta sauces?
When in Nice, after worshipping the sun, head towards
You light have every meal during your entire stay in this one spot.
I cannot do colors without including a hand knocker.
Can you imagine how hard it was to find a yellow door?
French apple pie...
Tarte Tatin.
Worth every buttery calorie.
What color is your house? I bet it isn't yellow.
Provencal pottery


Where to find the best pottery in the South of France?
New, but this pottery company has been around, and a must see when in Provence:
Cigalles.. Sicard... Apt... Confit pots...
Golden wheat under the ancient Roman aqueduct.
The best time to take the TGV is in May or late June.
An open air tour at high speed.
Yellow.
facade in Nice.
In the old town center.
Yellow confit pots.
Provence gold.
Does yellow make you feel warm?
Do you see it as a banana split?
What season does it remind you of?
Yellow #1 your favorite, #10 at the bottom of your color wheel list.
Poor yellow liked but not loved, unless it is a banana split.
Yellow snow.
Baguette Ville.
The color Yellow in Provence