Not porcelain pig tails, though they certainly look like it.
Not bugger pickers, OUCH!
Not fake teeth for a warped vampire.
Not hooks for towels, nor anything to do with electrical WIRES.
Nope. None of it is right.
(Photos via Seek Parts, Email address on the photo)
I bet you never thought to see something like this on my blog? Corey goes pink modern?


(Photos via Seek Parts, Email address on the photo)
It took some serious searching to find these modern version of the old porcelain ones that I posted on my blog a few days ago. But I found them!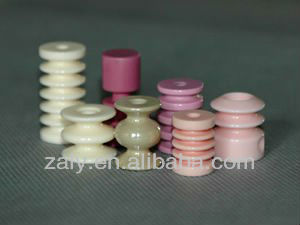 photo via textile machinery Alibaba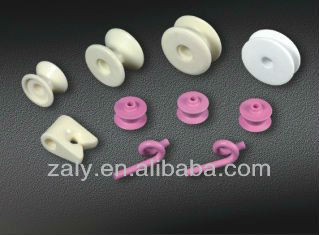 photo via textile machinery Alibaba
What are they?
Modern textile ceramic parts: or known as: "ceramic snail guides".
The winner is Leslie Hannon, who sent me an email explaining these curly porcelain things perfectly:
"I think these are all thread guides and tensioners used for weaving silk.  They are porcelain because the silk (or other fine threads) will shred and/or break if metal is used.  You can easily slip threads in and out of the corkscrew shape without cutting it first.  The wavy ones are the tensioning guides.  Threads can be wrapped around more than once if they are looser than others.  If not weaving (because they are so thick and it would take an enormous amount of them and thus take up a ridiculous amount of space) then perhaps they are used in an early production sewing factory.  I'm pretty sure they are thread guides."
Also I want to give a shout out to Kim G. who was the first to write on my blog, and nearly had the correct answer when she wrote:
The creative answer goes to Heather who wrote; "Corn cob holders".
Please Kim, Heather and Leslie send me your address via email so I can send you a nineteen century porcelain snail guide.
Thank you, all of you for your comments, emails, and faithful guessing!