Photo Source
Every Saturday I focus on a different artist that I admire. From potters to painters, chefs to collectors, seamstress to songwriters, lifestyle to lovers... anyone who set the paintbrush, pastry brush, hands and heart on fire to create.
Those who inspire art to flow where it may..
Since I am in the French Alps... while my family is skiing, and my 83 year old mother in law hikes 15 miles making me feel like a couch potato, I thought I would offer you a cup of artful hot chocolate.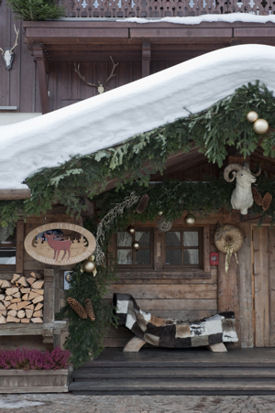 Skiing, or this?
I must admit as my family suited up to go skiing, as they talked of trails, slopes, and where they would go first... for a moment I wanted to grab some snow gear and hop in their pocket... "I can do this, I know how to ski, or should I say, get down the mountain pointing my skiis in a "V"."
A Cup of Coconut Hot Chocolate. (Follow the "photo source" under each photo for the recipes, and more.)
It is not the good book, nor the hot chocolate, it is not the fear of falling that keeps me from skiing. 
I honestly don't know why I am not out there.
Lacking desire?
Today is sunny, beautiful blue sky, glorious ski weather... so why not go outside and try to ski, or hike with my chic outdoorsy mother in law?
Being away from home, work, the brocante, allows a certain freedom for me to do whatever I want. Being here allows me to just be, to read, to follow blogs, to pin to my hearts content, and collect ideas for recipes... to be lazy.
The Kitcheneers Hot Chocolate Recipe:
Serious Eats Recipe of A Cup of Hot Wonder while Staying Inside
Ingredients
8 ounces brewed coffee (hot)
Sugar and cream to taste (optional)
1.5 ounces Frangelico or other hazelnut liqueur
1.5 ounces kirsch (cherry brandy)
2 tablespoons whipped cream
Whole nutmeg for grating
Dark chocolate bar for shaving
Luckily, someone stays back and cooks.Truly lucky.
I could either be skiing or dreaming up chocolate cups and lovely warm dinners. And luckily someone stays back and waits to hear their tales.
Why do I feel so guilty for not skiing?
Because being lazy is not a goal to inspire to.
Oh darn it.
Seriously this is chocolate addiction.
Chocolate cups!
If I made these in my lazy day I could claim victory.
French Heart's Recipe (Follow Photo Source for exact recipe)
What do you prefer:
White chocolate?
Dark chocolate?
Milk chocolate?
No Chocolate.
How to make a chocolate bowl.
Now that is having your chocolate and drinking the cup too.
How fun is this? Worth staying inside blowing balloons that is how fun!
A favorite French classic hot chocolate My Melange recites on her blog:
Of course Lipp's!