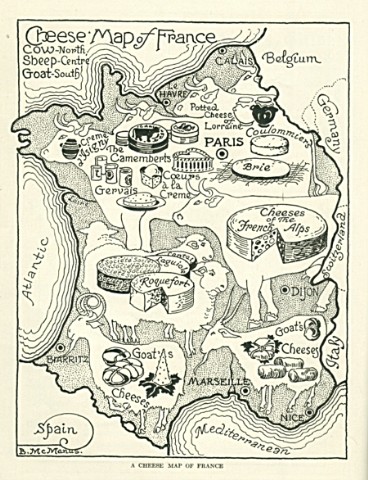 "It's packed with fat and salt—yet a moldy blue cheese could help you live longer, say researchers. Though the French enjoy a diet high in saturated fats, its women share the title of Europe's longest-living, with a life expectancy of 85.3 years."
"That prompted researchers to investigate the so-called "French paradox," and they found that Roquefort cheese can fight inflammation, preventing cardiovascular disease—and when it ripens, those anti-inflammatory properties grow more powerful," the Telegraph reports."

Photo Source The Cheese Vendor, artist Edouard-Jean Dambourgez
photo Source Tongue in Cheek by Corey Amaro
"Observations indicate that consumption of red wine alone cannot explain the paradox," the researchers write. "We hypothesize that cheese consumption, especially of molded varieties, may contribute to the occurrence of the 'French paradox.'" In fact, the researchers suggest that the anti-inflammatory components of the cheese might be worth extracting for use in cardiovascular drugs or in anti-aging creams."
Newser editorial team
                Photo: An endive takes a bow, follow me at Pinterest
Endive Roquefort Walnut Tart:
Put puff pastry on wax paper in a glass tart pan.
Chop in chunks three or four endives (use all the endive except the hard core at the end.) Place the chopped endive into the tart pan.
Crumble a generous handful of Roquefort cheese, sprinkling that on top of the endives.
Add a small but loving handful of chopped walnuts to top of the Roquefort.
Ground black pepper to taste,
Drizzle a dab of olive oil on top.
Bake for 30 minutes or so in a hot oven 220°
When the crust is golden, the endives caramelized and the walnut sweet perfume spills into the kitchen, turn the oven off, let it set inside the oven for fifteen minutes.

Photo Source: Postcards from Provence
Not much has changed at the French Markets, the food, wine, the cheese is the same.
The atmosphere as ever inviting with the exchange of recipes, menus, and what is the best buy of the season.
When at the market you can ask for a taste.
Most of the vendor enjoy sharing their knowledge about their products.
An individual cheese knife and a dessert fork pair up,
go out, have a swell time buttering each other up.
Looking for their pal Glass of Wine.
My friend Lea, who came to visit me a few years ago made these Amuse Bouche 
 (little bites that delight before the meal begins) for the taster teaser before dinner:
One grape on a soup spoon
the grape is stuffed with blue cheese and walnut
drizzled with honey.
Notes:
Do you like Blue Cheese,
or  better yet, have a secret to share
about anything sexier than cheese?