Last weekend at the brocante I found an oval plate that had a painting of a young woman who looked not impressed. In her hand she held a book, delicately.
Bothered.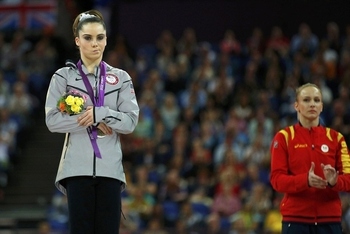 buzzfeed.com
When I saw it I instantly thought of 16-year-old McKayla Maroney, the American gymnast was favored to win the gold medal in the women's vault competition at the Olympics, but unfortunately fell. On the podium McKayla stood with her arms crossed, with a look on her face that seemed to say—she was not impressed. 
Don't they look alike?
McKayla Maroney had a French double back in the 1800s.
I wonder if the book she was reading was predicting her future. Did it go on to say, "...in the year 2012, you will be at the Olympics..."
Did she lower the book, wondering to herself, "...can I change that?"
What does our past tell us about our future? If history repeats itself who would you claim to be?
In any case I bought the plate.
And when I walk by it I look at it and say,
"Life is impressive!"