Photo and where to find it: Styled by Shonmodern
Every Saturday I focus on a different artist that I admire. From potters to painters, chefs to collectors, seamstress to songwriters, lifestyle to lovers... anyone who set the paintbrush, pastry brush, hands and heart on fire to create.
Those who inspire art to flow where it may.
Today's art.... Fashion style.
Photo and where to find it: Styled by Shonmodern
Shonmodern describes this look as: "Tank with narrow shoulder straps, long A-line shape with rounded hem, and shirred neckline detail. Everything you need to look hot, but feel cool."
A few years ago I went through my closet, giving up a look I had outgrown, and didn't use. I gave most my clothes away and started anew with a look that I hardly new how to define let alone understood. Luckily, I had a friend, Mimi, who helped me figure it out.
The Look: Goobye to waistline, no to form fitting. Forget hug tight. Rarely collars. Mostly solid- neutral colors. Focused on tiny details and cut. Oversize purses, long necklaces, and boots. Definitely baggy and layers, plenty of layers.
Photo and where to find it: Styled by Shonmodern
Oversized pants (the top is too busy for my taste, but I like the cut) with hefty pockets to carry every-little thing one could find at the antique market.
The look of these wide leg pants goes well with chunky shoes.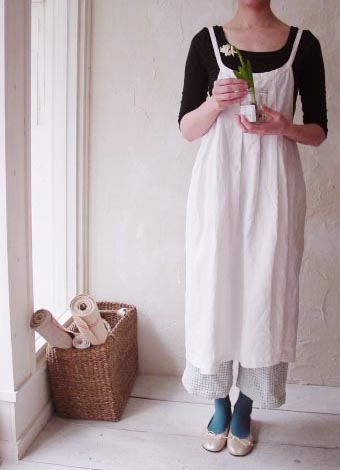 Another favorite are the simple patterns from Japan.
Camisole dress set ... talcum powder.
Perfect layering with loose springy, camisole dress has a summery loose fit.
The front and back of this dress design is exactly the same, a good pattern for beginners.
The set includes: 1.6m about fabric, and pattern.
Style by Mihaela Cretescu
A dress for all seasons, dressed up or down. Casual chic depending on what shoes you wear and where you put your hair i.e. in a curl, hat or teased with the wind.
It takes a certain type of women to step away from what is norm, feminine and flattering, to take on an artistic loose look. I am not saying that I think it is less flattering, unless you want to show your curves. Your figure is the first thing to disappear under the layers of clothing. Though what you gain in freedom of movement, and the sense of space. 
At fifty-four, this look doesn't have an age and it goes well with any weight. Trust me.
Note the shoes, a look like this has a great deal to say about the shoes.
and the intricate detailing that is often lost in the fullness of the look.
Soft wrinkled linen, fine cotton, or a mixture of the two soft and light.
As I am smaller on top (pear shaped) I look for the top part of my clothes to be more snug andhave the loose part on the bottom only.
Details in pleats, gather, shoes, cuff. Small and unassuming to the whole.
Incognito, yet ever present, defining the piece from just a oversized baggy square.
Stitches, large uneven and visible.
With what I said about details I must add, that what I find more and more original and attractive is the raw edge, the exposed seam, the reverse from everything I was taught about sewing well. Of course knowing when it looks good, and when it looks simply unfinished is the question of art. Or what one is comfortable with.
Unfinished hem.
Uneven hems...what freedom!
Small details.
The best part of this newly discovered look, that I am glued on it, and that it is easy to find at the open markets in France for a fraction of the cost. Most of the clothing comes from Italy, and is widely sold at the markets in the south of France: Marseille/Prado, Lourmarin, Aix en Provence, Cassis... Of course if you want higher quality, and one of a kind, then the links above will take you to the place.
Don't forget lace.
Colors that click with me: White, black, grey, mushroom, silver, navy and muted rose.