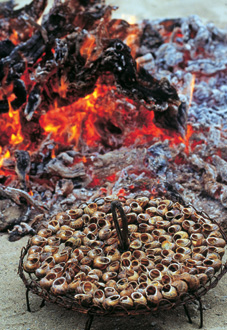 A Cargolade!
The other day I saw this iron wire tray at the French Brocante. I thought it was cool! I imagined a hundred ways, okay maybe not a hundred but you follow my drift, how I could use it.
Serving cheese was one of the ideas I had. A cooling rack was another. I even thought it would be sweet holding little pots with herbs on the garden table. It wasn't expensive about $30. In the end I didn't buy it, but I took a photo of it and asked the antique dealer what its purpose was.
JWalk nailed it! Bravo! Clapping happily I am! Send me an email and we can talk about your gift that I will send you.
The most creative answer was Laurie SF, who incorporated France and Spain in her answer by saying, "A 'Camino de Santiago' backpacking essential."
"The cargolade is not a dish, it is also a representation of a certain lifestyle. It is consumed in summer, preferably in a meadow or at least in nature, with many people: A cargolade less than 10 people lose interest. Ones organized by the municipality of Bompas together thousands of participants. In practice, the cargolade consists of snails, of course, but also Catalan sausages, meat to grill and a healthy dose of aïolli and joie de vivre. A Catalan adapts the squirrel you will eat an average of 100, 30 for a small eater, ten for those who catch up on the sausage. Attention, we all know an exception to 150, see 200 snails per meal!"

Check GOOGLE images for various Cargolades, recipes, images and stories.
Bravo! Thank you, for guessing and making this one a royal stumper! I had so much fun!