French magazine Marie Claire makes me drool. I was sick in bed all day, but by nightfall I started to feel a bit better. As my family was sleeping I couldn't make noise... I started searching ideas online. I tell you these photos perked me up and had me wanting to jump out of bed and re-do everything around me.
I woke up French Husband and showed him the bench beside the photo of the claw foot tub... "Look Honey isn't that a great idea?!" He did not have a happy face... I think if I hadn't been sick the last 24 hours he would have tossed me out of the bed for waking him up.
Photo by Marie Claire Magazine.
The photo of the free standing column faucet by the tub is exactly like the one we bought. The plumber did not enjoy putting that in the ground.
By the way where is the evacuation pipe I don't see it in this photo? Maybe it is a fake bathroom?
Years ago a building was being torn down in Marseille, I happened to be walking by when the demolisher was carrying out a marble fireplace. He was heading towards the dumpster. Of course, I had him throw it into my car. I hadn't thought about that fireplace in years!!! I woke up French Husband again, "Where is our marble fireplace? Can we put it in the bathroom? Look at this photo of one!"
French Husband looked at the clock, grabbed a pillow and threw it at me, "Go to sleep."
I felt bad for a minute that I woke him, then kept looking up ideas silently to myself.
Photo by Marie Claire Magazine.
Don't you just love how they used a long narrow table as a bathroom counter? Imagine a sink posed on top at the other end. Yeah I like that too. That Venetian antique mirror... sigh... they cost around 800 euro. I did not dare to wake up you-know-who for this one.
Photo by Marie Claire Magazine.
Cement poured bathroom counter. Stone wall shower. Reproduction exposed pipe to heat towels. I think I want this bathroom... Why did we cover our stone wall?
Realistically, our stone wall would have never looked this good, and it would have cost far too much to have it reinvented.
I saw one of those reproduction towel racks. A small one cost approximately 700 euro. Tiffany's and towel racks have something in common.
Photo by Marie Claire Magazine.
photo from Cote Sud Magazine.
Devon & Devon
elegance. Their catalog I used as a reference point.
This bathroom is in a B&B in the heart of Provence. The B&B is called Each room was created with antique pieces but with a modern sense of design. Isn't the ladder a good idea for a towel rack too.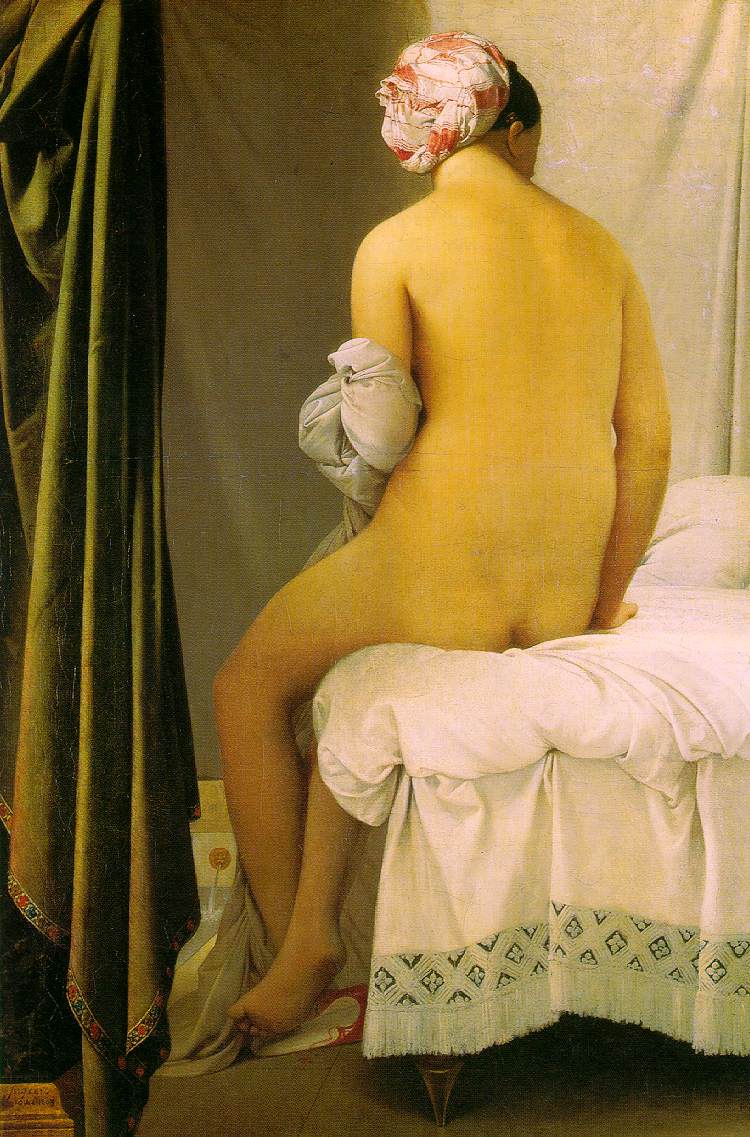 The Valpincon Bather
1808  Louvre, Paris
Towels for the bath.
Years ago
my friend Ellen
and I went to a hammam in Paris. I felt I had gone back in time. I wished I had long hair, brought beautiful woven towels, rose oil and a couple of satin pillows... it had all the other elements that this image shows. It remains one of my fondest memories. The gommage was unbelievable. I can still feel the cold marble floors underfoot and feel the steam rise around me when I think about it.
This is part of a large French antique tapestry that I have had hanging in our bathroom. I am thinking to put it somewhere else in our house, and in its place put the nude, charcoal drawings of men that I have rolled up in the cupboard.... should I?
I bet you want to see them first...
Well if I got up now, in the middle of the night, and took photos of them I am sure French Husband would wake up and think I had real flipped out.
Tomorrow then?